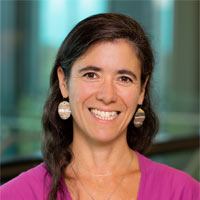 Contact:
Gila Neta, PhD, MPP is an epidemiologist and program director for Implementation Science in the Office of the Director in the Division of Cancer Control and Population Sciences (DCCPS) at the National Cancer Institute (NCI). Dr. Neta serves as the NCI scientific lead for the trans-NIH funding announcements in Dissemination and Implementation Research in Health. She also leads the Global Implementation Science for Equitable Cancer Control initiative and develops research and training activities related to implementation science across the NCI and National Institutes of Health. Dr. Neta is Co-Chair of the NIH-sponsored Annual Conference on the Science of Dissemination and Implementation. She also chairs the NIH D&I working group, a trans-NIH initiative providing leadership and vision for implementation science across the NIH. She has a secondary appointment within the Epidemiology and Genomics Research Program and the NCI Center for Global Health.
Prior to joining DCCPS in May 2013, Dr. Neta conducted postdoctoral research within the Division of Cancer Epidemiology and Genetics in the Radiation Epidemiology Branch, focusing on the potential unintended health effects of radiologic medical technologies. Dr. Neta received her Master of Public Policy degree at the University of California at Berkeley in 2001, and her Doctorate in Epidemiology from Johns Hopkins University Bloomberg School of Public Health in 2009. She conducted her doctoral dissertation work at the Eunice Kennedy Shriver National Institute for Child Health and Human Development.
---
Select Publications
Parascandola M, Neta G, Salloum RG, Shelley D, Rositch AF. Role of Local Evidence in Transferring Evidence-Based Interventions to Low- and Middle-Income Country Settings: Application to Global Cancer Prevention and Control. JCO Glob Oncol. 2022 Aug;8:e2200054. doi: 10.1200/GO.22.00054.
Parascandola M, Neta G, Bloch M, Gopal S. Colliding Epidemics: Research Gaps and Implementation Science Opportunities for Tobacco Use and HIV/AIDS in Low- and Middle-Income Countries. J Smok Cessat. 2022 Jun 17;2022:6835146. doi: 10.1155/2022/6835146.
Beecroft B, Sturke R, Neta G, Ramaswamy R. The "case" for case studies: why we need high-quality examples of global implementation research. Implement Sci Commun. 2022 Feb 16;3(1):15. doi: 10.1186/s43058-021-00227-5.
Khan S, Chambers D, Neta G. Revisiting time to translation: implementation of evidence-based practices (EBPs) in cancer control [published online ahead of print, 2021 Jan 4]. Cancer Causes Control. 2021;10.1007/s10552-020-01376-z. doi:1007/s10552-020-01376-z .
Neta G, Clyne M, Chambers DA. Dissemination and Implementation Research at the National Cancer Institute: A Review of Funded Studies (2006-2019) and Opportunities to Advance the Field [published online ahead of print, 2020 Dec 2]. Cancer Epidemiol Biomarkers Prev. 2020;cebp.0795.2020. doi: 1158/1055-9965.EPI-20-0795 .
Neta G. Ensuring the Value of Cancer Research: Opportunities in Implementation Science [published online ahead of print, 2020 Nov 6]. Trends Cancer. 2020;S2405-8033(20)30277-6. doi:1016/j.trecan.2020.10.003 .
Chen E, Neta G, Roberts MC. Complementary approaches to problem solving in healthcare and public health: implementation science and human-centered design [published online ahead of print, 2020 Sep 28]. Transl Behav Med. 2020;ibaa079. doi:1093/tbm/ibaa079 .
Quinn AK, Neta G, Sturke R, et al. Adapting and Operationalizing the RE-AIM Framework for Implementation Science in Environmental Health: Clean Fuel Cooking Programs in Low Resource Countries. Front Public Health.2019;7:389. 2019 Dec 20. doi:3389/fpubh.2019.00389 .
Neta G, Brownson RC, Chambers DA. Opportunities for epidemiologists in implementation science: A primer. Am J Epidemiol. 2018;187(5):899-910. doi:1093/aje/kwx323 .
Neta G, Johnson KE. Informing real-world practice with real-world evidence: The value of PRECIS-2. BMC Med. 2018;16(1):76. doi:1186/s12916-018-1071-1.
Johnson KE, Neta G, Dember LM, et al. Use of PRECIS ratings in the National Institutes of Health (NIH) Health Care Systems Research Collaboratory. 2016;17:32. doi:10.1186/s13063-016-1158-y .
Neta G, Glasgow RE, Carpenter CR, et al. A framework for enhancing the value of research for dissemination and implementation. Am J Public Health. 2015;105(1):49-57. doi:2105/AJPH.2014.302206.
---
Interests
Implementation science
Epidemiology
Environmental health
Climate change
Portfolio analysis
Training
Pragmatic designs
Economic evaluation
Last Updated
November 10, 2022