Two years ago, I joined the Cancer Prevention Fellowship Program, a life-changing opportunity that has transformed my scientific career. I came to NCI as part of a cohort of 13 passionate and inspiring fellows, whose backgrounds reflect how truly multidisciplinary the program is and highlights the importance of diversity to move cancer prevention and control forward. Trained in biological sciences, the fellowship allowed me to move my career from a laboratory-focused path to public health. During my MPH at Johns Hopkins University, the mentorship of Dr. Anne Rositch allowed me to start dipping my toes in global cancer research and implementation science. Through my involvement with Proyecto Precáncer in Iquitos, Perú, I saw not only the challenges for cervical cancer prevention and control in complex settings but importantly, the impact that the field of implementation science has in developing sustainable and effective cancer prevention and control programs around the world.
Building on this enthusiasm, I joined the Implementation Science (IS) Team under the mentorship of Dr. Gila Neta and Dr. Patti Gravitt from the NCI Center for Global Health (CGH). From my mentors I have received constant support to my learning process and growth, as well as invaluable exposure to multiple opportunities that have helped build my skillset and confidence in implementation science and global cancer research. I am currently leading projects that are focused on studying the sustainability of evidence-based practices for cancer prevention and control to expand our knowledge on how to best plan for and deliver effective interventions so that these can continue to provide health benefits, over time, and in different settings worldwide. Collaborations with members of the IS Team have expanded my knowledge, including a better understanding of the impact of social determinants of health and how these are considered in the implementation of cancer screening interventions in the United States. Additionally, working with peers at CGH has helped increase my awareness on the burden of human papillomaviruses and Schistosoma infections in the global South, also allowing me to stay connected with my background in biological sciences. Working in collaborative projects has been one of the hallmarks of this year, and I am very excited about collaborations that are coming in the near future.
As a member of the IS Team, I have been exposed to various opportunities that have significantly contributed towards my professional development. I have particularly enjoyed participating in working groups on building capacity for global implementation science as well as other dissemination and implementation efforts across the National Institutes of Health. The knowledge and skills that I continue to gain with the IS Team, have allowed me to better engage in important initiatives at CGH as well as establishing connections with dissemination and implementation researchers in Latin America creating opportunities for bi-directional learning and collaboration. Overall, being part of the IS Team and CGH has contributed immensely towards developing the skills necessary to formulate impactful research questions, reinforcing my commitment towards pursuing a career in implementation science in the context of global cancer prevention and control.
As I reflect on the last year as a Cancer Prevention Fellow, it is not an exaggeration when I say that it has been the best year of my life. The fellowship has allowed me to receive invaluable trainings in preparation for the next stage of my career, building on my knowledge as well as my leadership and communications skills. I want to particularly highlight the Systems Science for Social Impact Training Institute that gave me solid foundations to continue learning about this exciting field and apply it to my work. Stepping away from the bench and my comfort zone into public health was a leap of faith that felt very scary at the time, but one that I am very glad I took. Today, I feel immense gratitude for the Cancer Prevention Fellowship, the IS team, CGH, and my mentors who have given me room and support to grow personally and professionally. My journey in implementation science and global health has been an exciting one, and I am looking forward to the path ahead.
For more information about the Cancer Prevention Fellowship Program, visit https://cpfp.cancer.gov/.
Please feel free to reach out at margarita.mendez@nih.gov or @DrMargaritaCM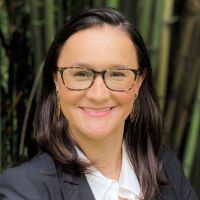 Margarita Correa-Mendez, PhD, MPH
Dr. Margarita (Maggie) Correa-Mendez is a Cancer Prevention Fellow with the Implementation Science (IS) Team in the Office of the Director in the Division of Cancer Control and Population Sciences (DCCPS) and the Center for Global Health (CGH) in the Office of the Director at the National Cancer Institute (NCI).

Dispatches from the Implementation Science Team, is an episodic collection of short form updates, authored by members and friends of the IS team representing a sample of the work being done and topics that our staff are considering for future projects. Topics address some of the advances in implementation science, ongoing issues that affect the conduct of research studies, reflections on fellowships and meetings, as well as new directions for activity from our research and practice communities.
Last Updated
September 01, 2022