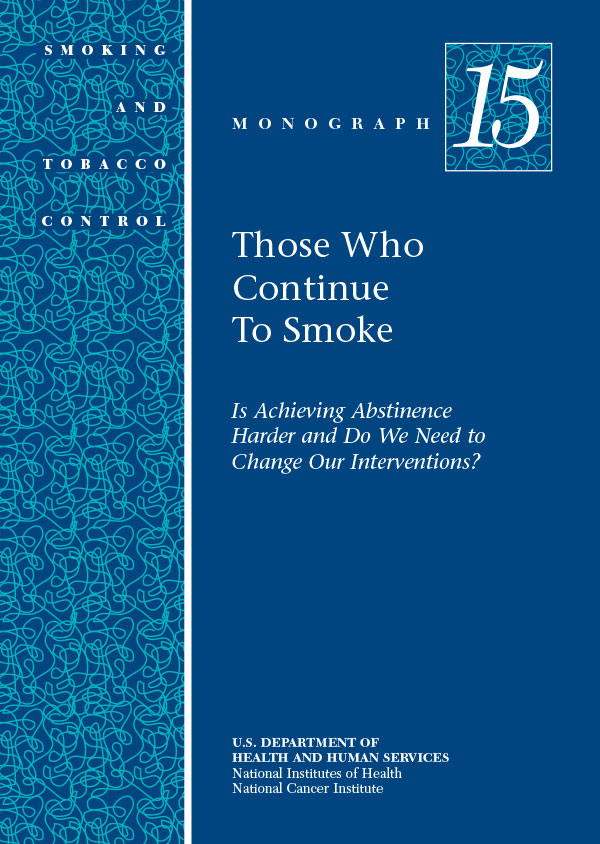 Reviews smoking cessation interventions and whether the targets of cessation interventions are becoming harder to treat. Monograph 15 examines measures of nicotine dependence, smoking behaviors, comorbidities, and access to tobacco control interventions.
Ordering Information
The tobacco monographs can be ordered by sending an email to nci@gpo.gov. Please include the title and/or NCI Publication Number and the requested quantity.*
* Only the full report (Publication ID: M250) is available.
Suggested Citation
National Cancer Institute. Those Who Continue to Smoke. Tobacco Control Monograph No. 15. Bethesda, MD: U.S. Department of Health and Human Services, National Institutes of Health, National Cancer Institute. NIH Pub. No. 03-5370, September 2003.
View Individual Chapters
Chapters and key topics covered within each chapter are listed below. Chapters generally include an introductory section, details on methodology, a chapter summary, research needs, and a reference list.
Front Matter (PDF, 531 KB)
Introduction (PDF, 100 KB)
Chapter 1. Smokers Who Have Not Quit: Is Cessation More Difficult and Should We Change Our Strategies? (PDF, 187 KB)

Definition of the Question
Measures of Hardening
Have Cessation and Abstinence Rates Fallen Overall?
Have Recent Cessation Rates Fallen Among Populations That Have Achieved Low Smoking Prevalence?
Are Residual Smokers Heavier Smokers or More Addicted?
Do Current Smokers Have Higher Comorbidity Than Smokers Did in Previous Decades?
Are Residual Smokers Concentrated in Less Advantaged Demographic Groups and Those With Less Exposure To Tobacco Control Interventions?

Chapter 2. The Case for Hardening of the Target (PDF, 105 KB)

Why It Is Important to Test the Hardening Hypothesis
An Adequate Test of the Hardening Hypothesis Is Needed
Dependence May Not Be the Most Relevant Cause of Any Hardening

Chapter 3. The Case Against Hardening of the Target (PDF, 102 KB)

Effect of Individual Factors on Heavy Smokers
Effect of Environmental Factors on Heavy Smokers

Chapter 4. Examining a Quarter-Century of Smoking Cessation Trials: Is the Target Becoming Harder to Treat? (PDF, 140 KB)
Chapter 5. Changes in Measures of Nicotine Dependence Using Cross-Sectional and Longitudinal Data from COMMIT (PDF, 161 KB)
Chapter 6. Changes in Smoking Habits in the American Cancer Society CPS I During 12 Years of Follow-Up (PDF, 142 KB)

Cancer Prevention Study I
Methods of Analysis
Results

Chapter 7. Changes in Number of Cigarettes Smoked per Day: Cross-Sectional and Birth Cohort Analyses Using NHIS (PDF, 168 KB)
Chapter 8. Changes in Cross-Sectional Measures of Cessation, Numbers of Cigarettes Smoked per Day, and Time to First Cigarette—California and National Data (PDF, 190 KB)

Changes in National Cessation Rates and Number of Cigarettes Smoked per Day
Changes in Cessation Rates, Number of Cigarettes Smoked Per Day, and Time to First Cigarette in California, 1990 to 1999

Chapter 9. Hardening of the Target: Evidence from Massachusetts (PDF, 146 KB)

Background
Methods
Analysis
Results
Last Updated
September 24, 2020