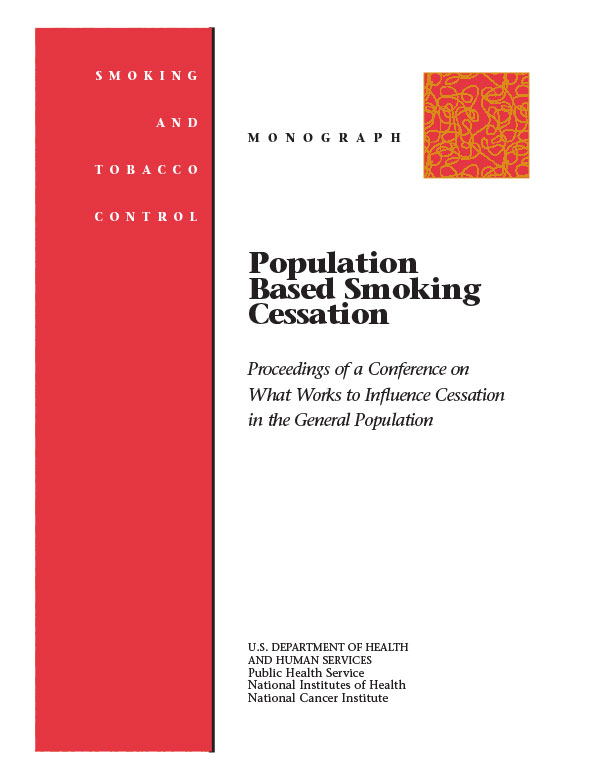 Provides research on the following efforts to reduce smoking in the general population: workplace smoking restrictions, physician intervention, self-help materials, quitlines, mass media, community-wide interventions, and population-based approaches. State-specific examples are discussed.
Ordering Information
The tobacco monographs can be ordered by sending an email to nci@gpo.gov. Please include the title and/or NCI Publication Number and the requested quantity.*
* Only the full report (Publication ID: M335) is available.
Suggested Citation
National Cancer Institute. Population Based Smoking Cessation. Tobacco Control Monograph No. 12. Bethesda, MD: U.S. Department of Health and Human Services, National Institutes of Health, National Cancer Institute. NIH Pub. No. 00-4892, November 2000.
View Individual Chapters
Chapters and key topics covered within each chapter are listed below. Chapters generally include an introductory section, details on methodology, a chapter summary, research needs, and a reference list.
Acknowledgments (PDF, 62 KB)
Contents (PDF, 35 KB)
Chapter 1. Smoking Cessation: Recent Indicators of What's Working at a Population Level (PDF, 251 KB)

Introduction and Overview
What Works

Chapter 2. Cessation and Cessation Measures among Adult Daily Smokers: National and State-Specific Data (PDF, 586 KB)

Cessation
Measures of Cessation
Multivariate Logistic Modeling of Cessation Data
Cessation in California
Smoking Behavior in Massachusetts: 1993 to 1997
Results
Appendix 1 (Tables 2-7 through 2-20)
Appendix 2

Chapter 3. Restrictions on Smoking in the Workplace (PDF, 271 KB)

Overview
Changes in Smoking Behavior with Implementation of Smoking Restrictions
Cessation

Chapter 4. Population Impact of Clinician Efforts to Reduce Tobacco Use (PDF, 248 KB)

Rationale for Clinician-Delivered Tobacco Interventions
How Many Patients Receive Tobacco Advice and Assistance, and Do They Quit?

Chapter 5. Impact of Medications on Smoking Cessation (PDF, 119 KB)

Overview
Use of Medications
Efficacy/Effectiveness
Interpretation
Conclusion

Chapter 6. Effect of Cost on Cessation (PDF, 204 KB)

Background on the Role of Price/Taxation
Overview of Recent Studies
The Canadian Experience
Effects of Cost on Measures of Cessation
Long-Term Successful Cessation
Measures of Cessation
Caveats
Appendix

Chapter 7. Self-Help Materials (PDF, 142 KB)

Utilization of Self-Help Materials
Impact of Self-Help Materials on Smoking Cessation
General Conclusions

Chapter 8. Telephone Quitlines for Smoking Cessation (PDF, 145 KB)

The Strengths of Telephone Quitlines
The Use of Telephone Quitlines
Efficacy of Telephone Quitlines
An Area for Synergy: Telephone Quitline as a Support for Physician Advice and Adjuvant Treatment for NRT
Conclusions

Chapter 9 . Mass Media in Support of Smoking Cessation (PDF, 181 KB)

California and Massachusetts Antismoking Advertising Campaigns
Stanford Five-City Project
Community Intervention Trial for Smoking Cessation (COMMIT)
Discussion

Chapter 10. Community-Wide Interventions for Tobacco Control (PDF, 60 KB)

Are These Assumptions Correct?
Do Community-Wide Interventions Work?
What Lessons Have We Learned?

Chapter 11. Interaction of Populations-Based Approaches to Tobacco Control (PDF, 138 KB)

Overview
Background
Framework for Our Study
Independent Evaluation Methods
Sampling Schemes
Data Collection Methods
Approach
Results
Last Updated
September 24, 2020